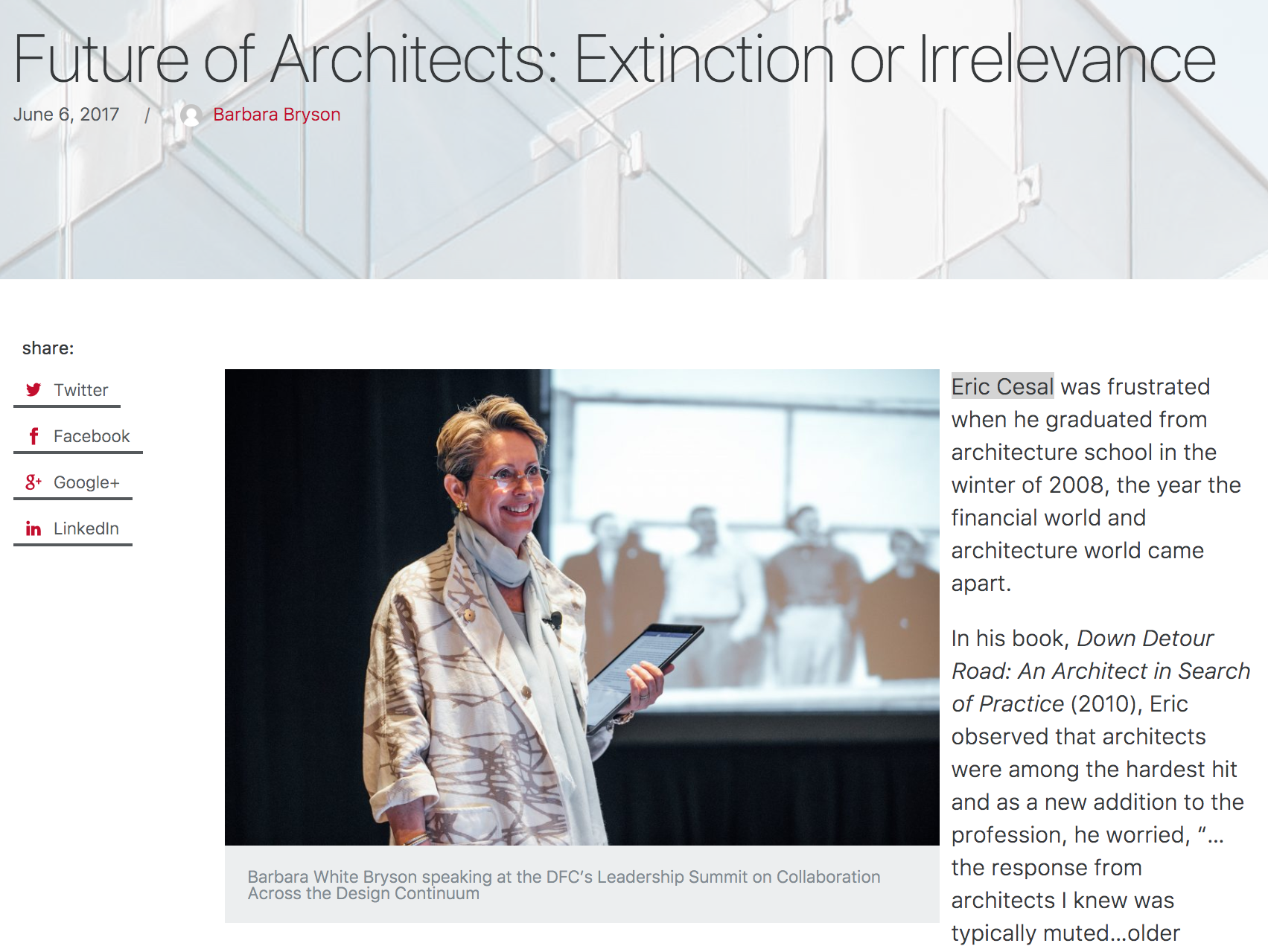 "#3 Connectedness counts - Learn the art of storytelling and plain speaking so we can compellingly communicate the value of our profession."
Great short article about a crisis that has been going on in the Architecture profession forever it seems, or at the very least my entire career in it since starting in 2001. I can't tell you how many architectural presentations I've gone to where I hear how we're at a crucial, pivotal moment because of... technology, globalization, automation, relevance - you name the flavor of the moment.

As someone who's spent the past 10 years working to help folks in this industry tell their stories both for straightforward, old school marketing purposes, but also hopefully with a glimmer of potential, to those outside of our navel gazing world, I consistently come back to the power of storytelling to help solve many of these issues. If we each started generating compelling content - photos, video, etc. - of the amazing impacts our designs were making in the world and our process then I think the veiled narrative of what an architect does would be lifted for our society to see and begin to engage with. We're doing an absolutely terrible job at the moment. There have been chinks in the Howard Roark-ian armor of the male architect wearing black and klunky glasses image of the profession with the #ilookup AIA campaign (they keep getting better and better) and commercial campaign and some of the savvy firms like Bjarke Ingels's BIG Dryline video (very much worth a watch, by the way) to really utilize the power of storytelling telling through extremely compact, well constructed videos.
Anyhow, I'll get off my high horse preaching about video but I truly think that if each architect started just simply taking better photos and short 15 second facebook/instagram/snapchat/linkedin videos of their work, day to day process, beautiful detailing moments, etc. then the tide would raise all boats and we'd all be living in a much more engage society where architects are valued because our built environment would be that much more dynamic and inclusive. This is why I've built this Center, creating all these courses and sharing all the knowledge I've learned. I want to be the conduit to help as many architects as possible learn these skills so they that it is second nature to grab their phone, DSLR camera, drone or whatever and start telling their story.